Quick WordPress Set up Guide
Blogging is your opportunity to share your passion with the world! Trouble is….most people haven't a clue on where to start, much less know about domain names, hosting and WordPress.
WordPress can be quite daunting for someone who has never used the platform before, but we can assure you once you have a good understanding of the process of using this awesome tool, you will never use another content management system again.
Let us get started and give you some tools to get your ideas on the net ! Here is a quick tutorial to setting up your blog.
There are 4 basis steps to setting up a WordPress website:
PURCHASE DOMAIN NAME & HOSTING
INSTALL WORDPRESS
INSTALL A THEME
MAKE IT YOURS
Buying Hosting
This is where your website files are stored – it is where your website lives.
We recommend Sitegound for fast, reliable hosting . Siteground offers a  free domain name on purchasing one of their  web hosting plans for a whole year. Bonus! Who doesn't love free?
Their website hosting plans are really reasonable. Don't believe me? Check out the following.
We would suggest if you are new to the digital world, to go with one company that has been recommended and that offers both domain name registration and also hosting. You want the best right?
Buying a Domain Name
A domain name is the address of your blog or business on the internet. Every website on the internet has a domain name and this domain name has an ip address, which is a whole string of numbers for example 01.255.452.05. The domain name tells a search engine where find the website that is associated with your domain name.
Right so you have decided on a name for your blog or business – all you need to do is sign up with Siteground and bobs your uncle, you will have your domain name  AND hosting!
And here is how you do it:
Once you have selected your domain name, review and complete and there you go – how easy is this?
 Install WordPress
Siteground offers 3 easy options of installing WordPress in case you were wondering. Including:
An easy to follow WordPress Wizard
One click Softaculous install
Free manual installation by the support team
So we have two of the main requirements of starting a blog – the domain name and hosting. If you are going to use the Softaculous method, as the other two options mentioned above are pretty straightforward. you need to do the following:
Log into your cPanel, the details of which will have been emailed to you and scroll down until you see the icon for WordPress.
Hit on this button!
Fill out the details, but remember to delete the 'wp' in the sub folder area which says 'In directory'. This is important! You want you website be hosted at the actual domain name i.e www.yourdomain.com and not www.yourdomain.com/wp.  Do not worry about changing any of the database names unless you really want to.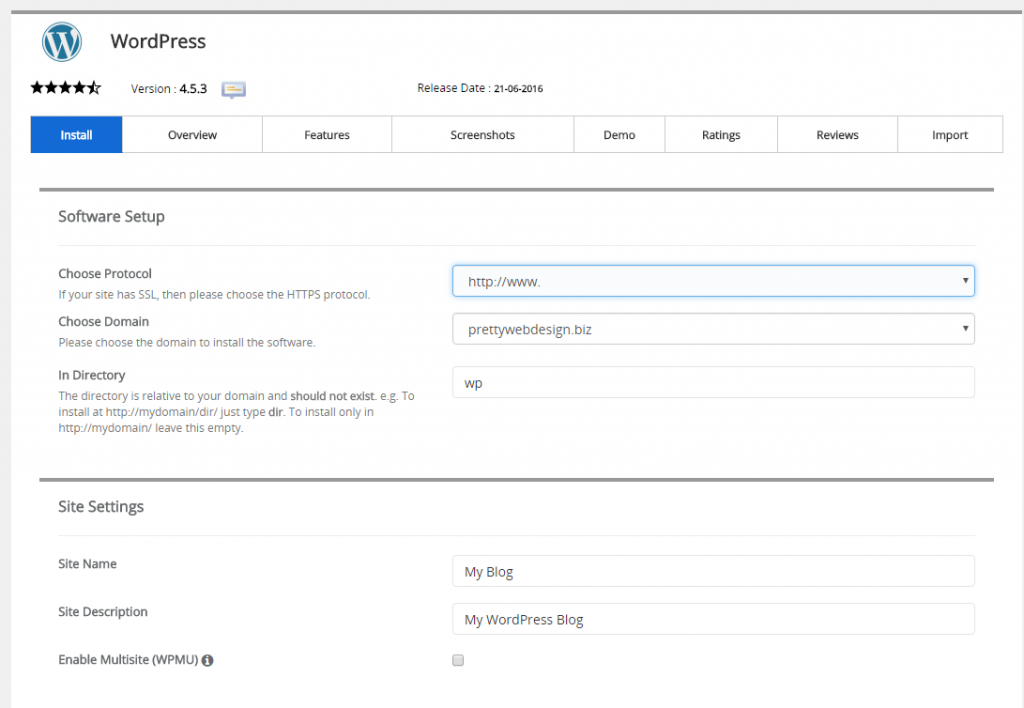 The installation process will take around 5 minutes. Hit the install button once you have given the WordPress installation a user name and password. We recommend strongly that you use a strong user name and password to ensure the security of your website.
And that is that. WordPress should now be installed at your domain.
 Install a Theme
With your installation of WordPress, you will find many free themes, which will require customisation if your want to make the website truly yours. Pretty Web Design has ready made customised themes for you. Most of the themes we have on offer have eCommerce functionality and all of our themes have customised blogs waiting for your content.
Our themes are ready to install and you will not need to worry about getting a website designer, which can cost a fortune to make the theme 'yours'. When buying one of our themes, you are already getting a theme which has been coded to the highest industry standards and a theme which is actually designed by a website designer! Bonus!
We use the Divi theme as our 'go to' framework that we use to design our themes. This will need to be installed at your WordPress installation before you can install your purchased theme.
This is the last step of the set up process:
Buy both the Divi Framework and one of our themes.
Download the theme .zip files onto your computer.
Do NOT unpack the Divi .zip file
Unpack the theme file for your chosen purchase theme.
Log into your WordPress admin dashboard
Scroll down to Appearance >> Themes
Hit the button that says 'add new' and then the 'upload theme button'
Choose the Divi .zip file stored on your computer first and upload

Activate the Divi theme (Appearance >> Themes >> Divi)
Go back to the upload manager and source the theme file that you unpacked on your computer (i.e. bliss.zip)
Upload this file
Go back to Appearance >> Themes >> Theme Name and activate!
All our themes can be customised or you can use the theme as shown on our demo pages. Once you have purchased one of our themes, follow the easy to read instructions to customise the theme to your liking if required or if you would prefer you can purchase our 24 hour installation package, where we will install all the software required for you to get your creative genius on the web – quick easy and cost effective.
Once this is done, you are now ready to get blogging!
If you have any questions or comments, please leave us a comment. Just want to say 'hi'? The comment section is waiting and we will reply!